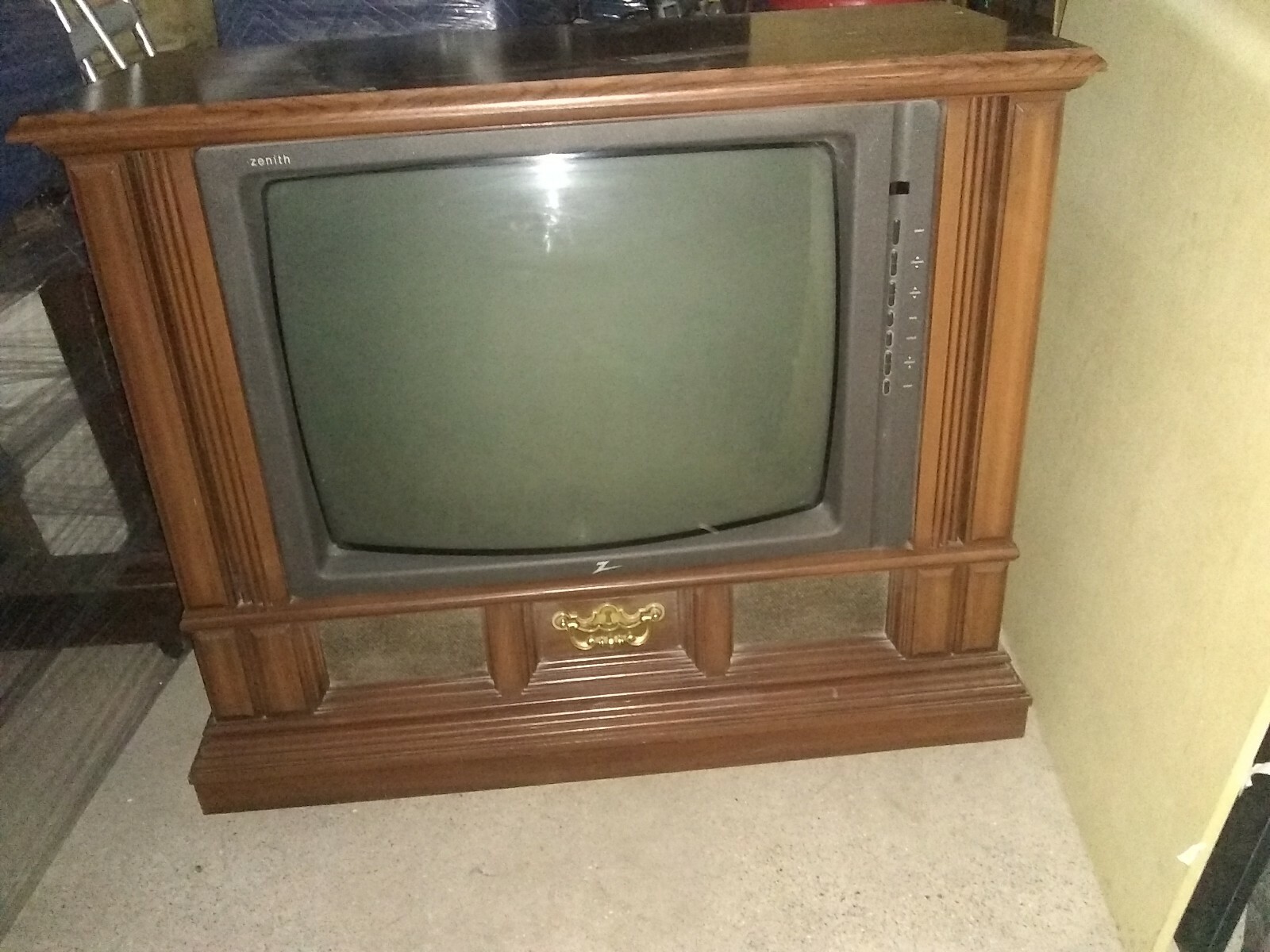 I duct taped a hammer to a broomstick and smashed out the tv while I tried to cover myself with a tarp. I was VERY curious as a kid about what was inside of a tv so this was both fun and terrifying for me!
I definitely thought I would be able to keep the back but it definitely was all very breakable and had to go! The cathode tube is behind that circuit and is the most dangerous parts of the tv. It can explode and be pretty dangerous. So I was behind a tarp with goggles and gloves while I smashed it all apart. I kept the gloves, goggles and mask on for the whole destruction and clean up. 
Zenith 27″ CRT TV console. See the warning! Risk of electric shock! Sometimes even the old tvs can hold an old charge, so for the love of god be careful!!!
See what a professional job I did! HA! I just cut a piece of old plywood from my garage to fit the space, and used these shelf supports to keep it in place. I'm impressed at how sturdy they are! As you can see I am not the most careful person or a big expert with tools. But I can be clever. 
After the shelf was in, I screwed back in the cardboard back support and BEAUTIFULLY and expertly drilled out an area in the back for extra accessible storage! In hind sight I should have cut this before I screwed it on. But 3 months after I finished the tv I realized there was the potential for a really cool storage space. I'm sure you'll do a better job!
I painted over the black tv part with black chalkboard paint. I also painted the inside of the tv with it and a "shelf" I found in the garage with the black paint too. This is not a complicated shelf. It was in my junk wood pile and was just two pieces of 2×4's nailed into one another. I gorilla glued and screwed the shelf in place. 
As far for the color, I just added some dark blue paint I had laying around with the black chalkboard paint. It seems to be the color I have been painting everything these days. Mainly because I have plenty of it. Since I mix it myself I like to name it things like, "Midnight Jean," or "Blue Jeans" or "Cheer up Sleepy Jean" etc…
There was a space between bottom of the tv base and where the shelf started. I filled in the gap with some paintable caulk I had laying around. It doesn't look perfect as you can see, but I think it works. 
The only part I left unpainted were the awesome burnt orange speakers and hardware with wood behind it. 
COST BREAKDOWN
Most importantly- Be creative and try to use what you already have!
$10 Black Chalkboard Paint– Here's the chalkboard paint that seems to be in all of my projects in one shape or another. You can add some grout to existing paint you have and make your own chalkboard paint too! Then you can name it whatever you want! See ya later way too expensive Annie Sloan! Hello, "Midnight Jean Chalk Paint."
$8 Gold and Black Wallpaper- This was my favorite design I saw on Amazon, turned out to be the cheapest, and was super easy to work with! WIN WIN WIN!
$12 Tap Lights- To make the gold in your wallpaper POP! This part is a SUPER optional purchase. 
$2 Wall Brackets– I'm going to be honest, I got most of this stuff at Menards. This is all I could find on Amazon that was close to what I got. I recall these being about 20 cents a piece. 
Craigslist TV- FREE. I had my eye out for a cheap old tv like this for about a year. So be patient! 
OH! This was the bar I made for that space before I found that awesome tv and sold this baby on Marketplace.